Chief Justice Kwasi Anin Yeboah has referred a bribery allegation against him by a lawyer to the Police CID for investigation.
The lawyer Akwasi Afrifa, who has fallen out with his client, claims his client told him the Chief Justice has requested a bribe of $5 million to tilt justice in his favour in his litigation with Ghana Telecommunications Company.
The client, Ogyeedom Obranu Kwesi Atta, the chief of Efutu and Gomoa Adjumako, has petitioned the General Legal Council over the impasse with his lawyer.
"The attention of His Lordship the Chief Justice has been drawn to copies of letters from a Lawyer (Akwasi Afrifa, Esq) and his client, the plaintiff in the matter of OGYEEDOM OBRANU KWESI ATTA Iv v GHANA TELECOMMUNICATIONS COMPANY & LANDS COMMISSION, to the Disciplinary Committee of the General Legal Council, and which letters are making rounds on social media. His Lordship is saddened that without any shred of evidence, his name has been dragged into this sordid and potentially criminal matter," the Judicial Secretary Justice Cynthia Pamela Addo wrote in a statement Monday
The statement added: "his Lordship confirms that he does not know the plaintiff and has not met or seen him anywhere, except in the court room when he rises to announce his name when his case is called. His Lordship asserts that he has had no personal interaction either with the plaintiff or his lawyer on this matter or in any other matter. His Lordship further asserts that he has not demanded or received any money from any person to influence any decision in this matter or any other matter."
The statement stressed: "to ensure that this matter is fully investigated, His Lordship has directed that a formal complaint be made to the Criminal Investigations Department of the Ghana Police Service for investigations and any necessary action. He has further directed that a Petition be lodged with the Disciplinary Committee of the General Legal Council in respect of this specific matter."
Meanwhile, the Chief has denied the claims of his former lawyer saying he has never met the Chief Justice nor discussed any issue related to bribery with him.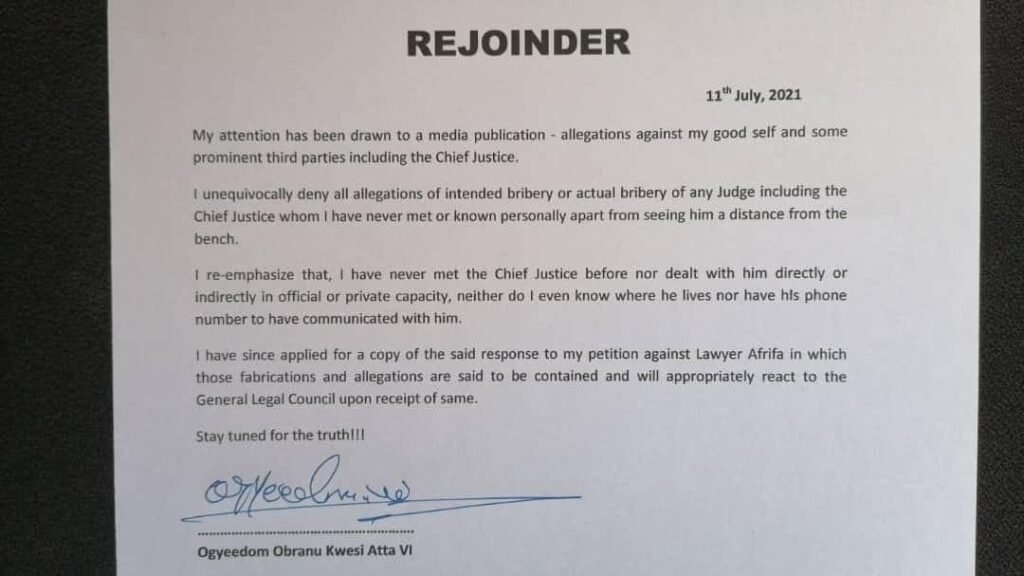 Source: Starrfm.com.gh
Check out more breaking and trending stories on alreadyviral.com, Kindly Subscribe to our Youtube Channel for more trending and interesting videos & don't forget to join our Telegram group for exclusive updates.